Yes they can. As the magnetic field of the sensors penetrates the target, they are sensitive to the target material. Inductive sensors therefore need to be factory calibrated to the same material as the target in the application. Standard calibrations are available for 4140 steel and aluminium. For other target materials, such as copper or tungsten, calibration would need to be made to that material.
Note that inductive sensors should not be used with rotating magnetic material targets (such as iron or steel) unless the electrical runout errors are acceptable in the application. The high permeability of magnetic materials such as iron and steel can cause small inductive sensor errors within the same piece of material due to microscopic cracks and material variations which cause permeability changes. While the changes are relatively small, the extremely high permeability of magnetic materials enables high-resolution inductive sensors to detect these changes in rotating targets of magnetic materials.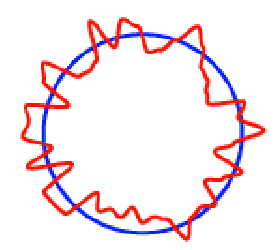 Runout plot showing actual runout in blue, electrical runout from inductive sensor in red.