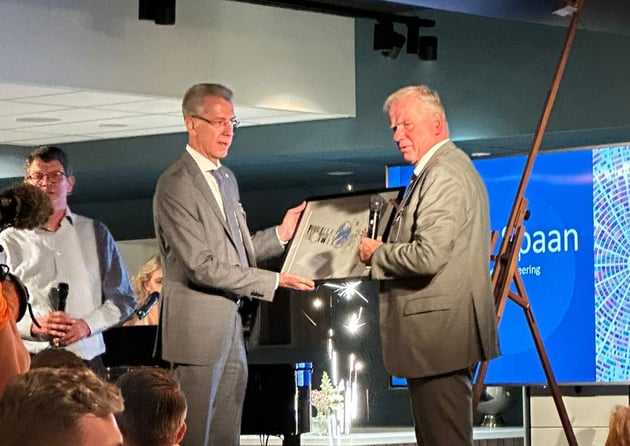 Henny Spaan (middle) received award from Martin van den Brink (right).
During a gala dinner on Thursday 6th July, held at Mikrocentrum in Veldhoven, our CEO and founder Henny Spaan was honoured with the prestigious Martin van den Brink Award, presented by Martin van den Brink himself. The Martin van den Brink Award is a distinguished prize that recognizes outstanding contributions in the high-tech manufacturing industry. The award is named after the esteemed chief product and technology officer of ASML and was first awarded in 2012. Henny Spaan is the fourth person to receive this special award. The award ceremony brought together about 220 participants from the industry to celebrate this event.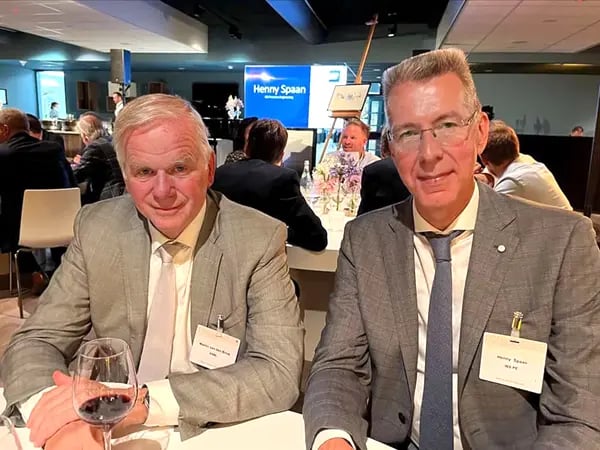 Martin van den Brink and Henny Spaan
The purpose of the award is to highlight the significance of systems architecture for the success of the Dutch high-tech system industry and to emphasize the leading role that the Netherlands plays in this field. It is an initiative of the DSPE (Dutch Society for Precision Engineering) in collaboration with Mikrocentrum.
President Hans Krikhaar of the Dutch Society for Precision Engineering applauded Henny Spaan for showcasing the perfect blend of "systems thinking and business creation." Henny Spaan is a leading expert in the world of precision engineering and metrology. As CEO and founder of IBS Precision Engineering B.V., a leading Dutch company, he has worked with organisations and research institutes around the world to enable the production of ground-breaking products and instruments where ultra-precision is crucial. During his career, he obtained several patents in the field; is actively involved in standardization within ISO; active member of international organizations such as CIRP, ASPE and EUSPEN (of which he was president from 2009 to 2011) and serving on the VDMA-EMINT board, emphasizing his ongoing commitment to promoting precision technology.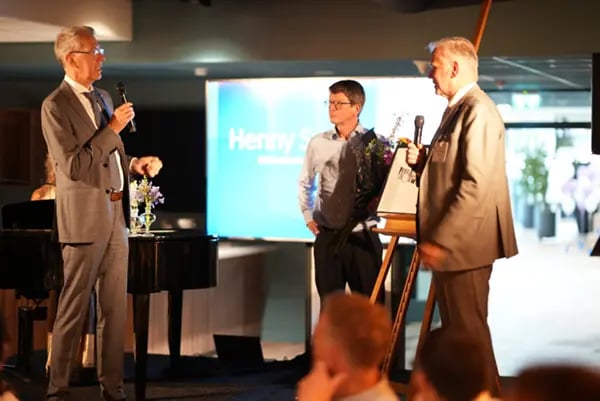 Henny Spaan, Hans Krikhaar and Martin van den Brink (left to right)
In his acceptance speech, Henny Spaan called it "an enormous honour to have the opportunity to stand here". In precision engineering, systems thinking is essential, he said. "That we are now being honoured for that is fantastic. This achievement is the result of the collaborative efforts of the entire team and not only within IBS but throughout the entire region of Southern Netherlands and far beyond. It is the infrastructure, also thanks to the DSPE, that is responsible for this." He also made a call to take precision technology to new worlds. "We are now very much looking at lithography. That is important, but there is still a whole world beyond that, which ensures that we can take the next step at the nano- and picometre level. Preferably together with a new generation of precision engineers. Let's all do our best to get young people excited about our profession."